Who is working on the Delias of the World website ?
On this site, you will find a complete list of all Delias species and subspecies, together with photographs and thumbnail notes relating to as many species as possible.
The aim is to make this site a complete reference for this genus.
This website is the result of the voluntary work of many entomologists who are passionate about Delias butterflies.
Olivier PEQUIN
Owner of this website, I am a private researcher and an amateur entomologist. I have been studying Delias for over 20 years now. I have traveled to meet them in Southeast Asia, Australia, Papua.
I had the chance to describe new species (Delias maaikeae) and subspecies of Delias (Delias dice burki). You can consult my scientific publications on Research Gate.
Chris Davenport did me the honor of naming Delias vietnamensis pequini from Cambodia after me.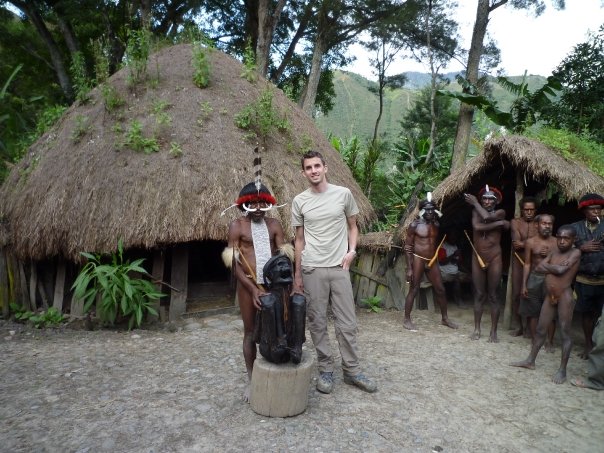 Olivier in Kurulu, Baliem Valley, Papua with locals, during a Delias study trip to New Guinea (2009)
Chris DAVENPORT
Chris is a Scottish entomologist who has built over the years one of the major Delias collections in the World. Chris has also described a lot of Delias species and subspecies over the years. The beautiful photographic plates on this site were produced by Chris' meticulous work.
The "Delias community" : several private entomologists and major Museums
A lot of entomologists passionated by Delias have helped us along the years :
- Les Day : who founded this website in 1999,
- Jean-Marc Gayman who helped me with the previous version of this website,
- and we are deeply indebted to the following individuals who have assisted us enormously in providing photographs, information and correcting the many errors which have crept onto the site: : Henk van Mastrigt, Danny Burk, David Lohman, Akira Yagishita, Barry Mallett, Nicolas Grimaldi, Laurie Wills, John Tennent, Clive Pratt, Gary Beardsell, Mehd Halaouate, Hiro Takenouchi, Antonio Giudici, Rob de Vos, John Kamps, Robert Gotts, Fred Gerritts, Jens Jakusch, Benny de Groof, Chris Muller, Antonio Giudici, Steeve Collard, Yi-Kai Tea and the Curator of the collection at the Royal Albert Memorial Museum, Exeter for access to their collection. I am sorry for all those who I forgot !