Delias takashii Sakuma 1999
natural hybrid Delias fascelis x Delias hypomelas
Range of Delias takashii :
. takashii - Arfak (very doubtful location, read notes below)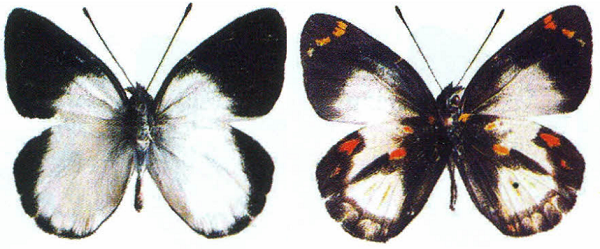 Notes on Delias takashii :
Original description : Satoshi Sakuma - Futao-Kai No31,pp2-3, Plate 2, 2&3
Male: Upperside of forewing, apical and marginal black area broad, extending to 2/3 of forewing from costal margin to tornus. Underside of forewing, resembles to Delias argentata, but black area is broader from base to outer margin. Black area broader toward the base in the space 1. Black apical border with light orange spots. Upperside of hindwing, black band broad from marginal to anal border, wavy near tornus. Underside of hindwing, resembles to Delias argentata, but black border broader from apical to marginal area. Spaces 5 & 6 with deep orange spots, without series of continual marginal white spots of Delias argentata. Base, discal cell and space 7 with deep orange spots. From 1 to 3 spaces with faint radial orange spots. Median black marking takes the shape of wedge from discal cell to space 4.
Female: Unknown
Henk van Mastrigt in his revision of Delias hypomelas group published in Sugapa in 2012 wrote :
"The upperside of takashii has a clear resemblance to D. fascelis, the underside of the forewing and the shape of the terminal spots on the underside of the hindwing also show some affinity with argentata. It is reported to have been collected in the Arfak Mts, which makes it impossible to regard it and a hybrid between fascelis and argentata. However, the specimen was supplied by a dealer in Nabire, who -in the experience of the author- has not been very precise in separating specimens according to locality. For these reasons the author considers that takashii is a hybrid, collected in the central mountain range of Papua (Ilu, Mulia-Ilaga area)."
We will thus consider here Delias takashii as a natural hybrid between Delias fascelis and Delias hypomelas.
It could also be an aberrant Delias hypomelas form argentata/clutus.